五香料飯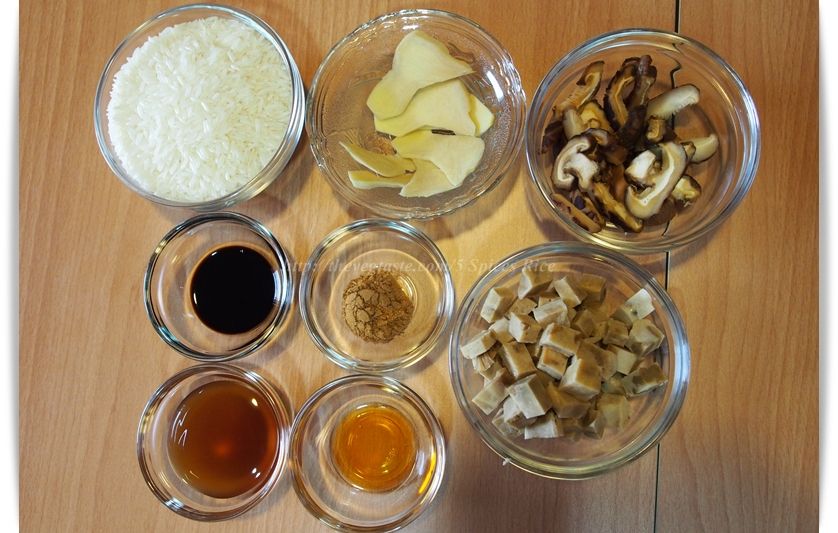 1 cup rice
4 pieces dry mushroom
100g vegetarian ham
4 pieces ginger
1 tbsp thick mushroom sauce
1 tsp dark soy sauce
1 tsp 5 spice powder
1 tsp sesame oil
1 tbsp cooking oil
A dash white pepper
1杯米
4枚幹香菇
100克素火腿
4片生姜
1湯匙浓蘑菇醬
1茶匙老抽
1茶匙五香粉
1小匙麻油
1湯匙食油
少许白胡椒
 Preparation:
1. Slice the ginger.
2. Soak and thinly slice the dry mushroom;
3. Cut the vegetarian ham into small cube size.
预备材料:
1。生薑切片。
2。幹蘑菇浸泡,切片;
3。素火腿切成小粒状。
 Methods:
1. Heat a wok with cooking oil, add mushroom, vegetarian ham and ginger slice, fry till fragrant.
2. Wash the rice, measure the water according to your rice pot measurement.
3. Add in thick mushroom sauce, sesame oil, dark soy sauce, 5 spices powder and fried ingredients at step 1. Stir well.
4. Cook the rice as normal. Once the rice cooked, stir the rice well and ready to serve.

烹调方法:
1。燒熱油鍋,放入香菇,素火腿和薑片,炒至香气出来。
2。將大米洗淨,根據你的飯煲測量水的分量。
3。添加浓蘑菇醬,麻油,老抽,五香粉和油炸食材在步驟1。攪拌均勻。
4。把米饭像往常一样煮好。一旦米飯煮熟後,把飯攪拌均勻即可。