(小白菜苗炒蘑菇)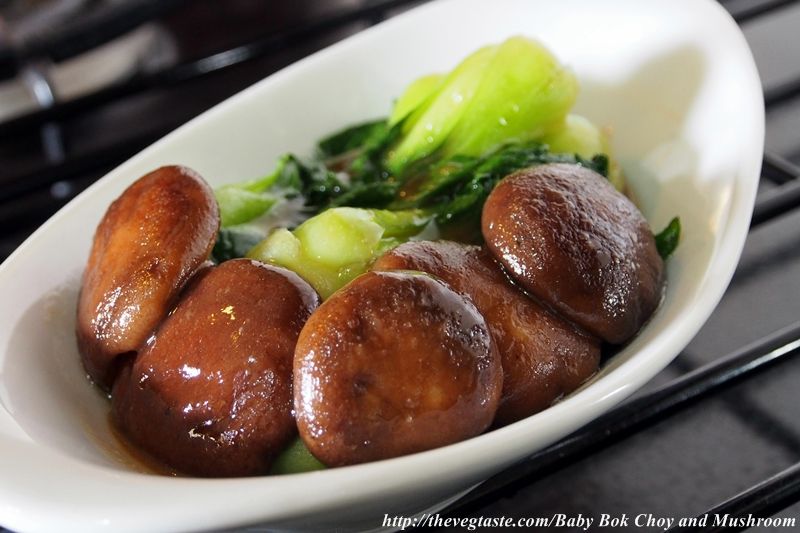 > 10 small size baby bok choys ——> 10棵小白菜苗                                     
> 5 fresh shiitake mushroom s——> 5朵新鲜香菇                                              
> 3 thin slices of ginger——> 3片生姜                                                    
> 2 tb peanut oil ——> 2 汤匙花生油                                                                   
> 1 tbsp premium black bean soy sauce paste——> 1汤匙黑豆酱油膏                
> 1 tsp corn flour dissolves with 2 tbsp water ——> 1茶匙淀粉加2汤匙水调匀(勾芡)                 
> ¼ cup water ——> ¼杯水    
PREPARATION:
1. Soak and wash the bok choy thoroughly, peel off the withered leaf if any. Cut the stem into half, rinse in running cold water to remove any sand hiding inside the stem.
2. Clean the mushroom, cut off the stems. Save the stem in refrigerator for other recipes.
准备材料:
1. 小白菜苗泡水整理,最好是把菜根切开以方便清理沙粒如下图,洗净,沥干水。
2. 香菇洗净, 却开香菇脚。 把香菇脚放保鲜袋入冰箱冷藏准备做其他料理。
COOKING METHODS:
1. Bring a large pot of water to boil. Add 1 tbsp cooking oil.  Blanch the washed vegetables until just done or half cooked and drain.
2. Meanwhile heat oil in a pan and saute ginger till fragrant and lightly golden. Return the blanched bok choy to the wok, season with premium black bean soy sauce paste and a little water, stir fry till cooked. Arrange the bok choy on a platter and set aside. Remain the leftover sauces on the wok to cook the mushroom.
3. Turn the heat to low, add the mushroom and 1/4 cup of water, simmer till the sauce reduce to half. Remove the mushroom and arrange with the cooked bok choy. Add the corn flour mixer, mixed well till the sauces turn transparent. Pour the sauces on top of the arranged vegetable and serve hot.
烹调方法:
1. 取一个汤锅,放半锅水,大火烧开,放1 茶匙油,然后把小白菜放入,油至半成热,马上捞出,沥干水。
2. 热油锅,放姜片炒至金黄,然后放小白菜下去翻炒,至小白菜断生再放黑豆酱油膏和一点水调味,马上捞出摆盘,留下汤汁来焖香菇。
3. 炒锅置小火,放香菇和¼水焖至差不多收汁把香菇舀出跟菜装盘。将炒锅里的汁加入水淀粉,直到汁变稀稠透明再将汁淋在上面即成。
.
THE VERDICT!!!
Baby Bok Choy and Mushroom (小白菜苗炒蘑菇)
.
.