莲藕腐乳焖豆包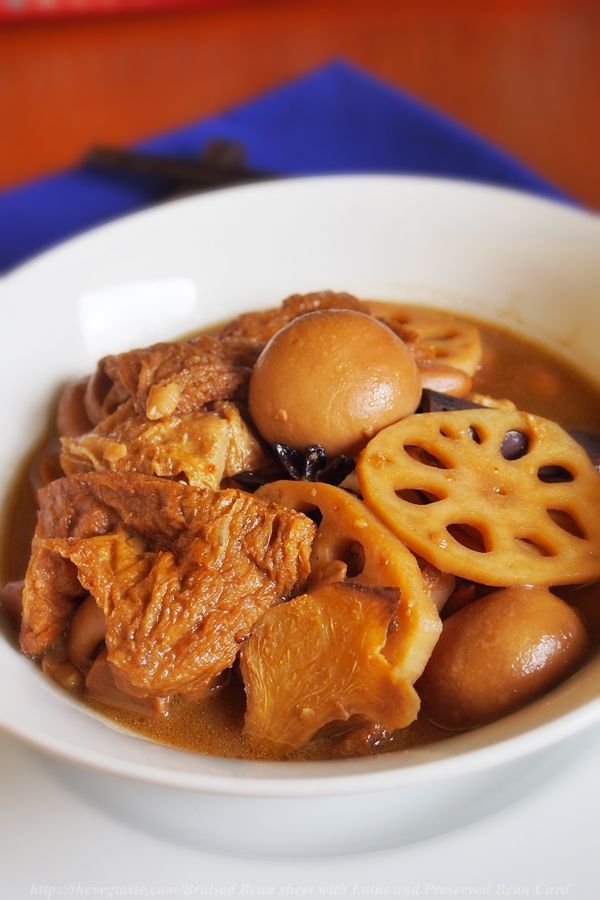 Ingredients:
2 fresh bean sheet (deep fried, cut into bite size)
A handful of peanuts (Wash and soaked overnight), alternative use canned peanuts
1 small lotus subsection (peeled and sliced thinly)
1 Package fried bean stick
2 tbsp. cooking oil
I canned mushroom (big can-425g)
3 slice ginger
2 star anise
1 small piece of cinnamon
3 cups water
Seasoning:
2 tbsp. preserved bean curd
2 tbsp. mushroom sauce
1 tbsp. sugar
材料
:
2 片豆包(炸油切方块状)
花生一抓(炸洗净浸泡隔夜)或一小罐花生罐头
莲藕一小节(去皮,切片薄片)
1包炸腐竹
2汤匙食油
1罐蘑菇 (大罐-425克)
3 片姜
2粒八角
1小片玉桂皮
 3杯水
调味料:
2汤匙腐乳
2汤匙素油膏
1汤匙糖

Cooking Directions:
1) Heat pot, heat 2 tablespoons oil, follows by ginger, cinnamon and star anise. Sear until fragrant.
2) Add all ingredients (except fried bean stick) follow by seasonings (except sugar), mixed and stir fried until fragrant for a minute. Add water and sugar, boil on medium heat. Once boiling, add fried bean stick, mixed well. Turn the heat to low, simmer until the peanuts and lotus turn soft about 45 minutes.
做法:
1) 烧锅,热2汤匙油,下姜、玉桂及八角爆香。
2)下所有材料(除了炸腐竹),加入调味(除了糖),拌炒片刻爆香,加入水和糖煮沸,加入炸腐竹,转小火焖至花生莲藕软, 大概45分钟。