芥菜焖东炎
Ingredients:
2 head of mustard green; (cut each leaf into half)
8 pieces fried bean stick
1 medium pack of vegetarian puff dough
2 tbsp. tom yum paste
1 tbsp. vegetable concentrate
5 slices of ginger
3 pieces asam keping
5 medium size tomatoes; (cut into halve)
15 pieces dried chili; (deseed and soak with water)
2 tbsp. cooking oil
7 cups of water
材料:
2头芥菜; (每片叶子切半)
8条炸豆腐条
1包炸面筋球 (中包装)
2汤匙东炎
1汤匙蔬菜浓缩汁
5片姜
3个asam片
5粒中番茄; (切成半)
15条干辣椒; (去籽,浸泡水)
2汤匙食油
7杯水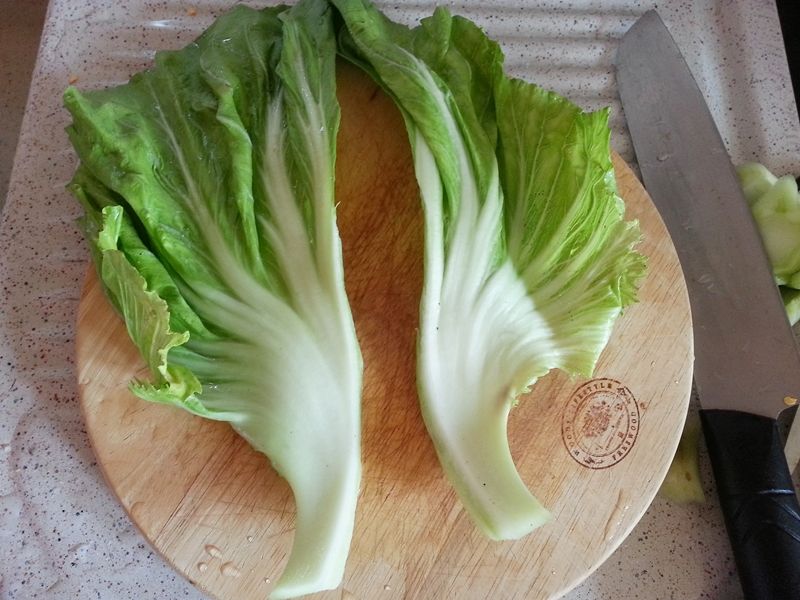 Cooking Directions:
1. Heat wok with cooking oil, add ginger and soaked dried chili, and fry until fragrant.
2. Add mustard leave, stir fried until the leaf softened, add water and all ingredients except tomato.
3. Cook on medium heat until boiling, simmer under low heat for 1 and half hour.
4. Add tomato 30mins before finish.
烹饪方法:
1。热油锅,放入姜片,辣椒干,炒至香。
2。放入芥末,煸炒直到叶子变软,加入水和所有的材料除了番茄。
3。中火煮至沸腾,传小火焖1个小时半。
4。30分钟完毕前加入番茄即可。