乾捞面
Kon Lon or Kolo literally means "dry mixed" in Chinese. Dry Kon Lon Mein or Kolo Mee means noodles mixed with sauces in a "dry" form. It does can be plain in colour or black. The black sauce and other secrete sauces are the main ingredients used to toss the noodles.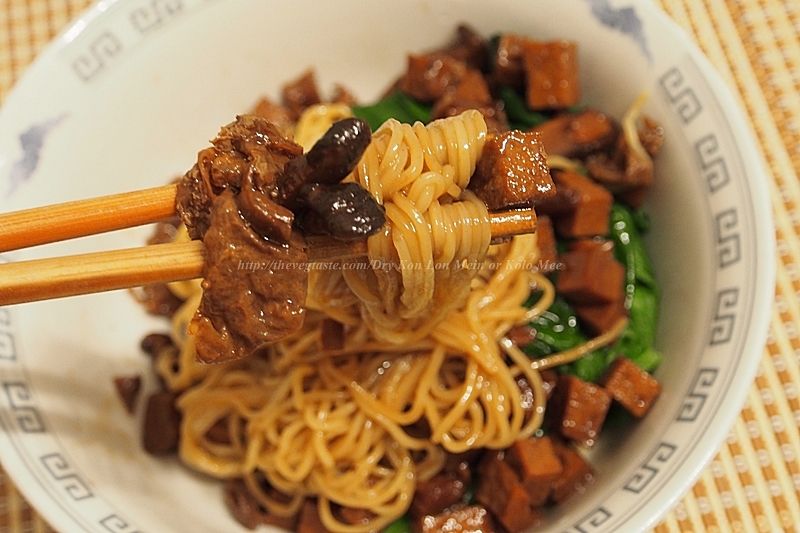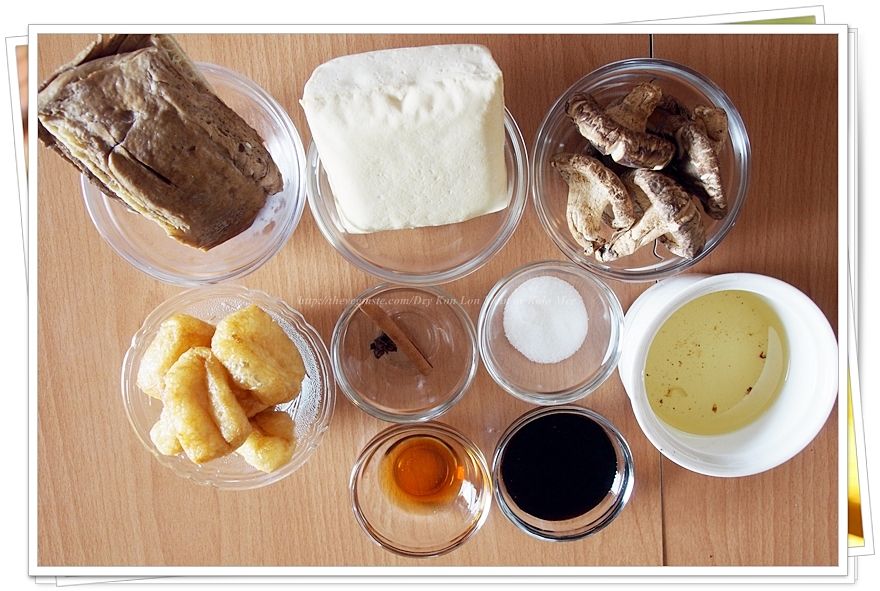 Fresh small noodles/Kolo Mee/Wanton Mee
Some green vegetable
1 cube Tofu/ Tawkua
4 dry shitake mushrooms
1 pc gluten ( I use marinated vegetarian salted duck )
5 fried tofu puff
1 cinnamon
1 star anise
½ tbsp sugar
5 tbsp thick vegetarian mushroom sauce
Light soy sauce to taste
1 1 /2 cup cooking oil
Some Vinegar (Optional)
鲜丝面条/乾捞面条/雲吞面条
少许青菜
一块豆腐干
4朵干香菇
1片面筋(我用素腌鸭)
5粒油炸豆腐
1段桂皮
1粒八角
半汤匙糖
5汤匙香菇素油膏
少许酱清调味
1 1/2杯食油
少许醋 ( 随个人口味)
Preparation:
1. Soak dry shitake mushroom in warm water until softened, remove the stem then slice thinly;
2. Cut the gluten and tofu in thick slices then cube into 1-1.5 cm cube;
3. Cut the green vegetables into 3 sections;
4. Slice the fried tofu puff thinly.

预备材料:
1. 干香菇放入温水中浸泡到软,然后捞出切成细丝;
2. 面筋 和豆腐干切厚片后再改刀成约1 – 1.5cm见方的切成小丁;
3. 青菜切段;
4. 油炸豆腐切薄.
Making the sauce :
1. Heat the pot with 1 1/2 cup of cooking oil, add tofu cube and deep fried until golden, remove and drain the excess oil;
2. Deep fried the Gluten until golden, remove and drain the excess oil;
3. Remove the excess oil from the pot, leaving approximately 5 tbps of the oil in the pot;
4. Sauté mushrooms, cinnamon, star anise until fragrant;
5. Add the fried tofu and gluten cube, fried tofu puff, shitake mushroom , sugar , stir well until all combine ;
6. Add 2 cups of water, reduce the flame to low and simmer for 30 minutes until the sauce reduce to half, off the flame;
7. After a while, there is a visible layer of oily sauce on top, other ingredients will be at the bottom part of the pot.



熬制酱料:
1. 起锅,烧热大约一杯半的油, 入豆腐干炸至金黄,捞出油沥干;
2. 油锅再入面筋也是炸至金黄,捞出油沥干;
3. 把油取出锅,留下约五汤匙左右在锅中;
4. 爆香香菇,桂皮,八角;
5. 入炸过的豆腐干和面筋,油炸豆腐,香菇素油膏,糖,搅拌均匀;
6. 入2杯水拌匀,小火焖个30分钟即可 (汤汁收半后熄火);
7. 过一会儿,可见上一层有油性酱汁,酱料在下层.
Cooking the noodle :
1. Bring a large pot of water to boil, add the noodle, cook until just done; ( its only take a very short time, do not over cooks the noodles, when the noodles started rise on the surface of the boiling water, this is the sign of the noodles is cooked);
2. Remove the noodles with a colander or spider strainer;  place on the cold water, place the noodles back into the boiling water, remove from the boiling water drain the excess liquid and place the noodles in a bowl;
3. Add the oily sauce, toss until all combine nicely. At this point may add a few drop of vinegar if you wish;
4. Blanch the vegetables, remove with a colander, place on top of the noodles;
5. The final step is top the noodles with the sauce ingredients;
6. Gently toss the noodles in the bowl and you are ready to eat;
7. Follow the same steps above; continue to cook the rest of the noodles to the no. of bowls required.


煮面:
1. 锅中放较多的水,大火煮滚后,放入面条拨散,煮到断生;(时间宁短不长,不要煮到特别熟软,面太软不好吃。看到面在滚水中浮上来这代表面已熟了);
2. 用漏勺捞出面条;过冷水,再次将面条放入锅中过滚水,捞出反复抛起面条控干水分,将面条放入碗中;
3. 加入油性熬制酱汁,快速将酱汁和面拌匀。 随个人口味可加少许醋;
4. 将青菜放入烫过滚水至刚熟,用漏勺捞出,放在面条上;
5. 最后就是将所有的酱料摆在面条上即可;
6. 要吃时,碗中拌匀即可享用啦。