姜丝黑木耳素瘦肉
Ingredients:
250g Vegetarian Lean Meat (Make from mushroom stems, ready in frozen packaging)
10 pcs dried cloud ear fungus (Soak in water and cut off the stem if any)
1/3 cup shredded ginger (Indeed we need a lots ginger)
1 ½ cup water
1 ½ tbps. Cooking oil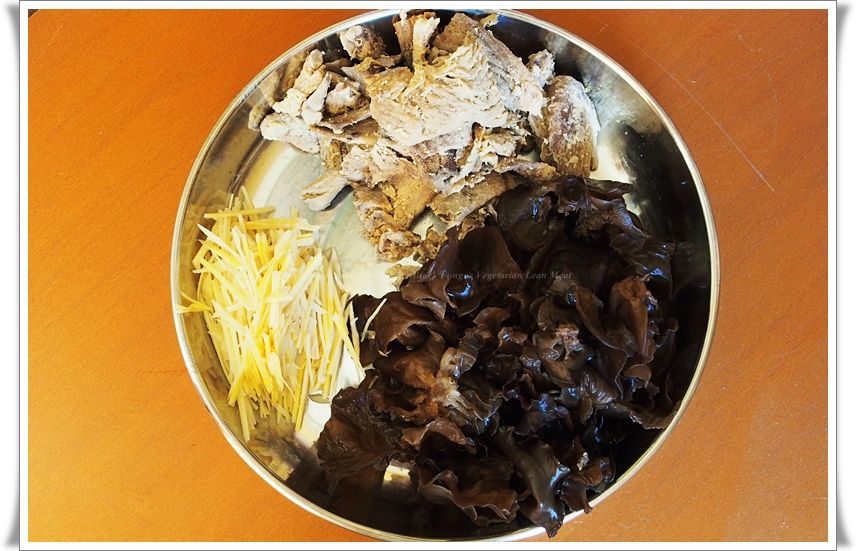 Seasoning:
1 ½ tbsp. mushroom sauce
1 tsp. dark soy sauce (for colouring, optional)
Sugar and salts to taste (optional)
1 tsp sesame oil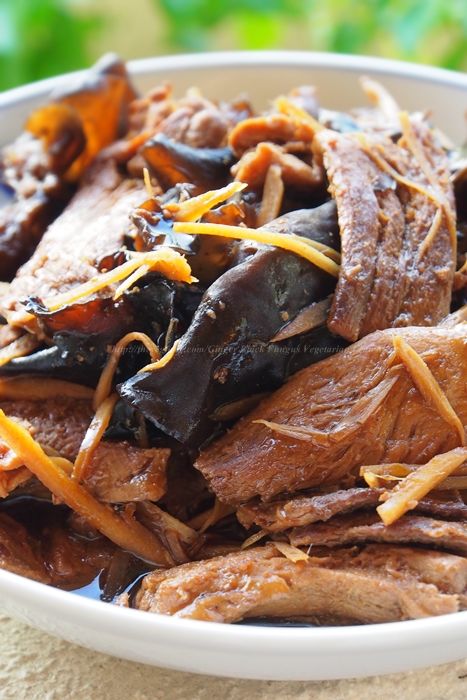 Cooking Directions:

Heat wok with 1 ½ tbps. of cooking oil. Add ginger, fry until fragrant and lightly browned.
Add vegetarian lean meat and fungus, stir fry for a minutes.

Add mushroom sauce and dark soy sauce, stir fry for another minutes.

Add water, mixed well and bring to boil. Once boil, turn the heat to low and simmer for 15mins until the fungus turn soft and the sauce thicken.
Add sugar and salts to your liking follow by sesame oil. Simmer for another minutes, turn off the heat; dish out.