五香卤猴头菇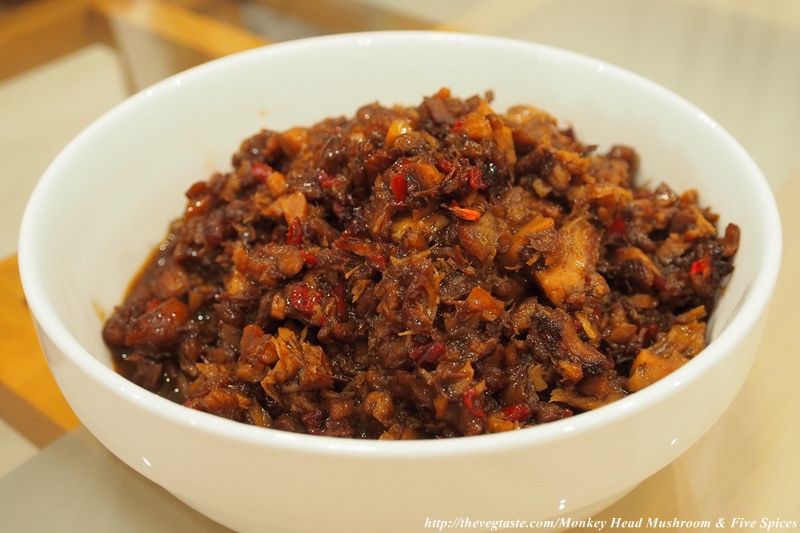 Recipe for Monkey Head Mushroom & Five Spices  五香卤猴头菇:
150g monkey mushroom
30g crushed dried tofu
2 chilies
3 tbsp vegetarian mushroom sauce
2 tbsp soy sauce
1 tbsp sugar
1 teaspoon five spices powder
2 tbsp oil
1 thumb size ginger
1 cup of water
150g猴头菇
30g 干豆腐碎
2 条辣椒
3 汤匙油膏
2 汤匙酱油
1汤匙糖
1 茶匙五香粉
2汤匙食油
1拇指大姜
1 杯水
Tips:
1.  Monkey mushroom can use either fresh or chilled marinated packaging.
2.  The crushed dried tofu also name as dry bean curd cube or bean cracklings.
温声提示:
1.  猴头菇可用新鲜或腌过冷藏包装的。
2. 干豆腐碎另名为碎花或豆油渣。
Preparation:
1. Soak dry bean curd in water for 10 minutes and drain;
2. Chop monkey mushroom into small chunky size;
3. Minced the chilies and ginger; and
4. Set everything aside and get ready with all the sauces.
准备材料:
1。干豆腐碎浸泡在水中10分钟,沥干水分;
2。猴头菇剁成粒状;
3。剁碎辣椒和生姜;
4。将材料放在一边,准备好酱料。

Cooking Methods:
1. Heat wok with oil, add in ginger and chilies. Fry till fragrant.
2. Add bean curd cube and monkey mushroom. Fry for 2 minutes.
3. Add vegetarian mushroom sauce, soy sauce, five spices powder and sugar. Fry for another minute.
4. Add water, simmer until the sauces thicken. Off the flame.
5. Serve with warm rice or noodles at your preference.
烹调方法:
1。 炒锅烧热油,加入生姜和辣椒。炒至香。
2。 加入干豆腐碎和猴头菇。炒两分钟。
3。 添加油膏,酱油, 五香粉和糖。炒一分钟。
4。 添加水,焖至收汁即可。
5。 配饭或面食,随个人发挥。


.
THE VERDICT!!! Monkey Head Mushroom & Five Spices  (五香卤猴头菇)
.
.