蘑菇番茄意面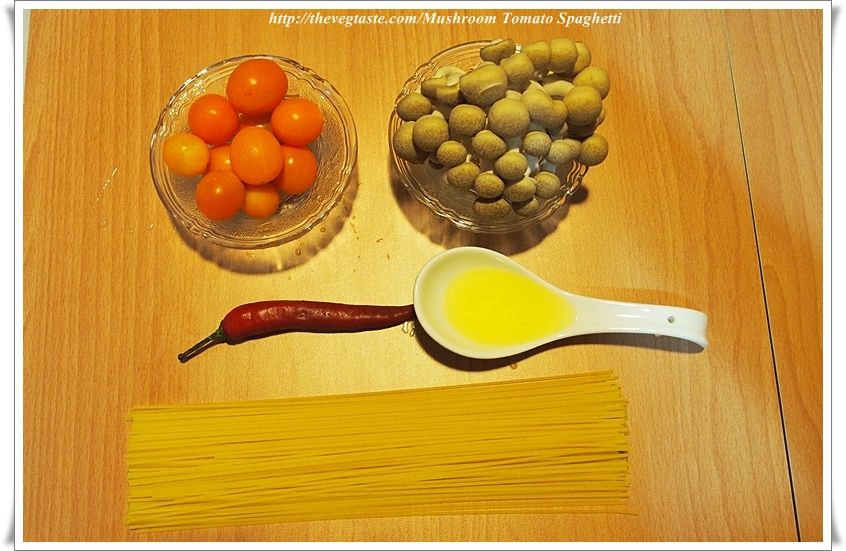 Recipe for Mushroom Tomato Spaghetti 蘑菇番茄意面:
    200g spaghetti

 1-2 tbsp olive oil

 A handfull of shimeji mushrooms, base discarded, mushrooms separated

 1 red chili, finely slice (Optional)

 10 pcs cherry tomatoes

    200克意大利面条

1-2汤匙橄榄油

一手抓蘑菇, 掰成小朵,洗净

1条红辣椒,切细(随意)

10粒樱桃西红柿, ( 或番茄, 随意)
Methods:
1. Cook the spaghetti following the packet instructions.
2. Meanwhile, heat the oil in large frying pan and add the chili and mushroom. Cook on medium heat for a while. Stir occasionally to prevent sticking. Then add cherry tomatoes to the pan. Add some water to the pan to keep the veggie moist. Cook further until the vegetable soften and tender. Remove from the heat and give everything a good stir to mix well.
3. Drain the spaghetti and add to the pan with the cooked veggie. A dash of black pepper to taste. Toss well and serve. Serve with some grated cheese at your liking.
做法:
1。把意面条煮透根据包装上的说明。
2。同时,烧锅热油,加辣椒和蘑菇。煮一回儿。偶尔搅拌一下以避免粘锅。然后加入樱桃西红柿。锅中添加少许水以保持蔬菜的湿润。翻炒一下至蔬菜完全熟,熄火,搅拌均匀。
3。沥干意大利面条,并倒进已煮熟的蔬菜里。少许黑胡椒调味。搅拌均匀即可。如需要可配上你喜欢的奶酪。

THE VERDICT: Mushroom Tomato Spaghetti 蘑菇番茄意面