Nutella 酥皮卷饼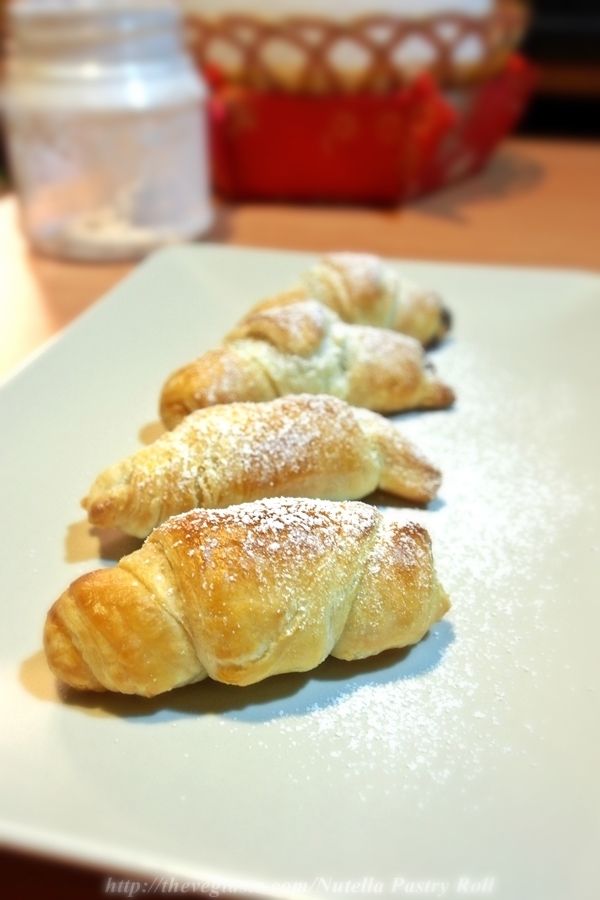 Recipe for Nutella Pastry Roll:
1 sheet of puff pastry
8 tbsp. of Nutella
1 Egg with 1 tbsp. water
Some Flour for dusting
Some Confectioner sugar

1张酥皮
8汤匙 Nutella
1粒鸡蛋+1汤匙水
少许面粉
少许糖粉

Methods:
1) Preheated the oven to 200C with top up grill on.
2) Crack egg in a bowl with 2 tbsp. of water to make egg wash.
3) Lay the puff pastry on lightly flour surface and roll a bit to make a smooth pastry surface.
4) Cut the pastry into 4 squares then each square cut diagonal in half to make 8 pieces.
5) Stretch each piece of the pastry to make a triangle, don't need to be exact.
6) Place 1 tbsp. of Nutella on the biggest end and brush all the edges with egg wash, then roll up to the other end and seal the edges.
7) Place on parchment paper and brush with egg wash. Bake for 15mins until golden brown.
8) Sprinkle with confectioner sugar and ready to eat!
Tips:
1) Use cold Nutella for easy assembling.
2) Can be prepared the night before, place in the refrigerator and direct poop into the oven next morning.


做法
1)烤箱预热200℃,开顶部烧烤键。
2)打鸡蛋在碗里加2汤匙水来制成蛋液。
3)案上施一层防粘薄粉,把酥皮放在案板上,用擀面杖把酥皮轻轻压成厚薄均匀.
4)把酥皮切成4平方份然后在每平方对角线再切成两半,一共8份。
5)拉伸每一块酥皮制作一个三角形,并不需要非常精确,大概就可以。
6)将1汤匙Nutella酱摆放在酥皮最大的边,旁边四周围刷上蛋液,然后卷动到另一端,
顿时确保两侧密封,以防止Nuttela 液在烘烤时流出来。
7)烤盘上放上油纸,把切好的酥饼放在油纸上. 烘为15分钟至金黄色。
8)撒上糖粉即可!
温馨提示:
1)使用冷却的Nutella,比较容易组装。
2)可在前一天晚上准备好放冰箱,隔天早上直接放入烤箱里烤。