橙汁炸豆包
For the marinate:
3 pieces fresh bean sheet
Oil for deep fried
Some orange zest for garnishing
Breading:
¼ cup cornstarch
¼ cup plain flour
1 teaspoon baking powder
½ teaspoon salt
1 egg
For the sauce:
1 tsp. cornstarch dissolved with 1 tbsp water
1/3 cup fresh orange juice
2tbsp. sugar
1tbsp orange zest
1 tsp. vegetables concentrate stock
才料:
炸粉料:
1/4 杯玉米淀粉
1/4 杯面粉
1茶匙发酵粉
½茶匙盐
1粒鸡蛋
调料:
1茶匙玉米淀粉+1 汤匙水
1/3 杯橙汁
2 汤匙糖
1 汤匙橙皮
½汤匙蔬菜浓缩汁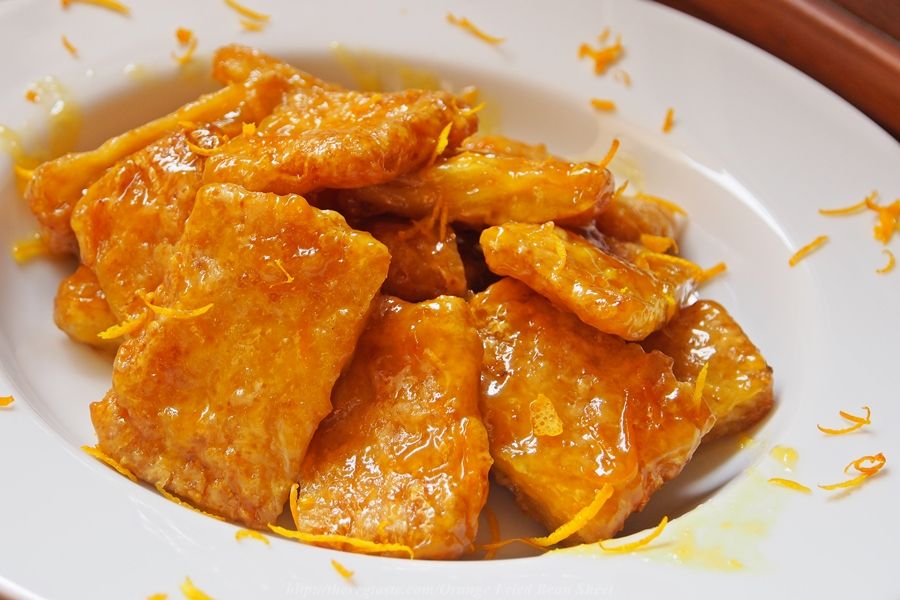 Preparation:
Cut bean sheet to bite size. Deed fried the fresh been sheet till lightly golden.
In a large plate combine cornstarch, plain flour, baking powder and salt.
In a bowl, crack and whisk the eggs.
Add the fried bean sheet into the flour, toss until all coated with the flour mixer.
Transfer the fried bean sheet to the egg liquid; dip all of them in the egg liquid.
Transfer back to the flour mixer and gently toss to coated, set aside for 30mins. Let the flour bind into the fried bean sheet.
In a small bowl, mixed cornstarch liquid, orange juice and sugar, set aside.
Scrape the orange along the grater from top to bottom to zest the orange. Cut into halve and squeeze the juice out.
Methods:
In a medium pot, heat oil, slowly drop part of the marinated fried bean sheet, fry till the flour form a crush and golden. Lift up and set aside. Drain the excess oil on paper towel.
Heat wok with 1 tbsp of oil, add the sauce. Cook until thickening. Off fire.
Add orange zest and the fried bean sheet. Toss to combine and serve immediately.


准备材料:
豆包切成小片。炸至微金黄。
在一个大碗里混合所有炸粉配料,除了鸡蛋,搅拌均匀.
在另一个碗,打散鸡蛋.
炸豆包放进炸粉,混合均匀
取出,放进蛋液里,混合均匀
捞起,放回炸粉里,混合均匀。休息30分钟。让炸豆包吸收炸粉.
小碗中调入橙汁、白砂糖和水淀粉,混合均匀制成芡汁。
肖好橙皮。橙切半,挤出橙汁备用。
烹饪做法:
中火烧热锅中的油,放入炸豆包,炸至金黄,捞出沥干油分待用。
锅中入油,随后放入橙芡汁,大火将芡汁收稠。关火。
再入橙皮和炸好的炸豆包。均匀地兜裹在炸豆包上即可。