炒大笋芥兰
Ingredients:
1 stalk of Kai Lan stem
1 large size of fresh shiitake mushroom
1/2 half carrots
6 balls of fried dough puff
1/2 tbsp ginger strips
1 tbsp. cooking oil
Seasonings:
1/2 tbsp vegetarian abalone sauce
1 tsp of salt to taste
Preparations:
Slice Mushroom and carrots thinly.

Separate leaves from stem. Cut leave into bite size. Trim off end of stems and remove the mature skin (hard skin), slice thinly.
Ingredients ready for cooking.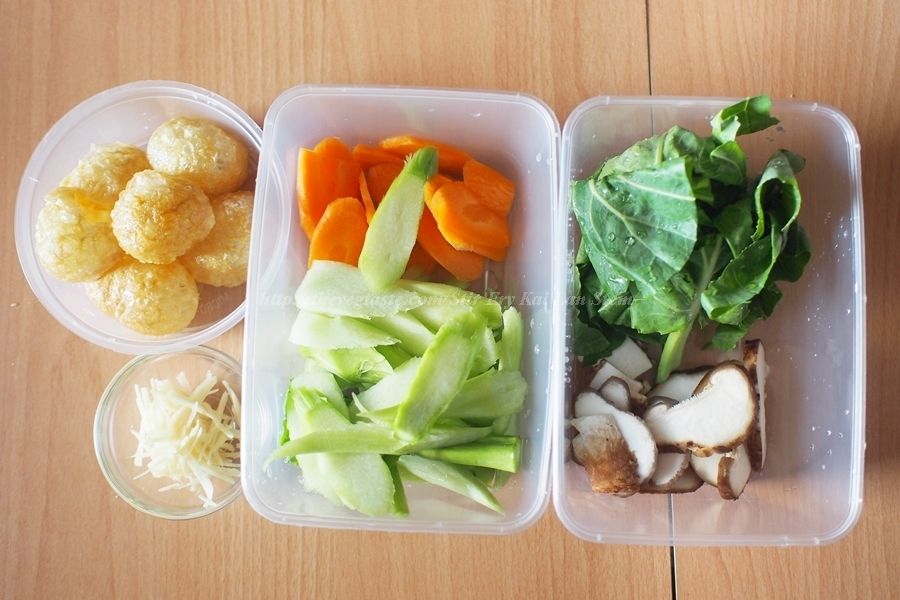 Cooking Directions:
Heat skillet with oil, add ginger and mushroom slice; saute to fragrant and the mushroom started release some liquid.
 Add carrots and Kai Lan stem, stir to coat with the oil. Add 1/4 cup water, turn the heat to high, bring to boil.
Add vegetarian abalone sauce and salt, kai lan leaf and fried dough puff. Bring to boil again until all the ingredients absorb most of the liquid.
Stir Fry Kai Lan Stem is ready to served.