素五香卷
Ingredients:
1 sheet of fried bean curd skin
500g vegetarian lean meat
4 water chestnuts, finely diced
½ cup diced carrot
1 ½ cup diced cooked taro
1 stalk coriander, finely sliced
1 large egg, lightly beaten
3 tbsp. cornstarch
Oil for deep frying

材料:
1片豆腐皮
500克素瘦肉
4粒荸荠,切粒
半杯已切丁的胡萝
1½杯煮熟切丁的芋头
1棵香菜,切碎
1粒大鸡蛋,打散
3汤匙。玉米淀粉
油

Seasonings:
½ tbsp. five spice powder
1 tbsp. premium black soy bean sauce
Pinch of white ground pepper
Pinch of sugar

调味料:
半汤匙。五香粉
1汤匙。上等的黑豆酱油 膏
白胡椒粉少许
少许糖

Cooking Methods:
Diced and stem yam until soften. Allow to cool;
Diced carrots and water chestnuts, slice coriander;

Place all the ingredients and seasoning in a large mixing bowl;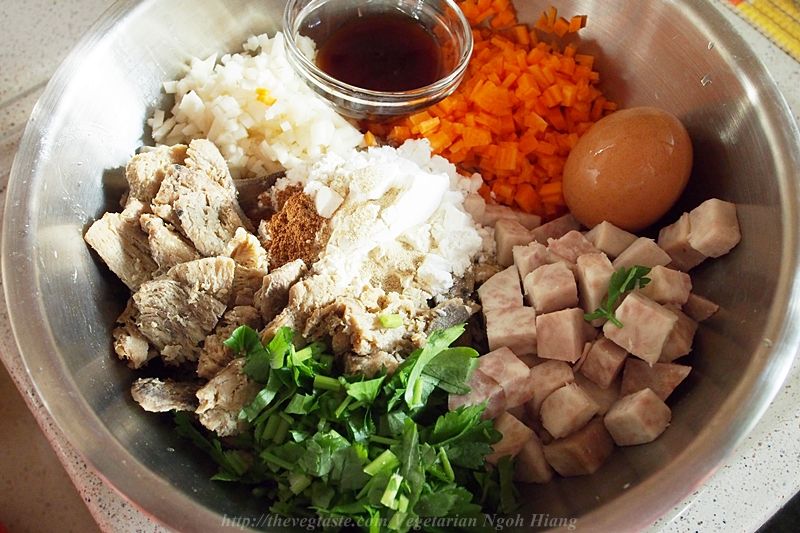 Lightly press and squeeze around to mix well. This to make sure all the ingredients coated well and will bind together after steaming.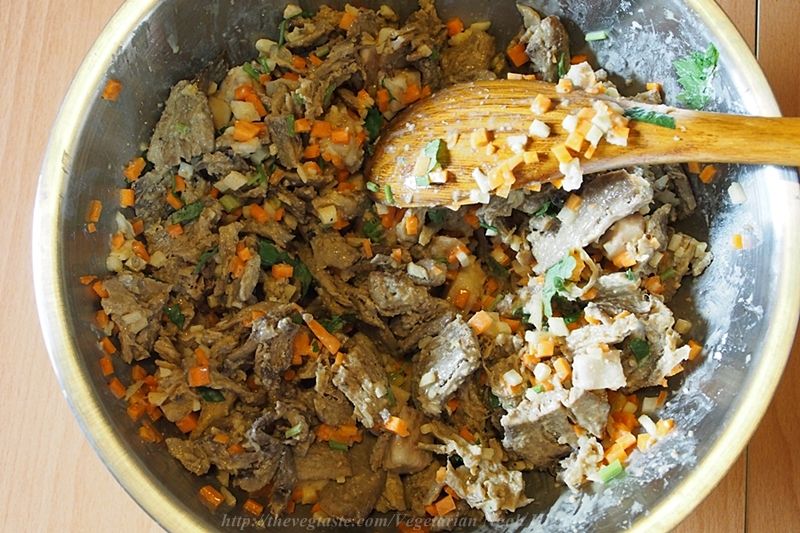 Wrapping process:

Cut the bean curd skin cut into 8 piece rectangles
Lay the bean curd skin on the work surface; using a paper towel or damp cloth, gently wipe both sides of the bean curd sheet. This step is to get off the excess salt on the bean curd skin.
Place 2 tbsp. of the prepared mixer on the bean curd sheet in one edges. Shape the filling into a slim sausage shape. Lightly brush some water to all the edges. Roll it up making sure to tuck in the sides as well and place it seam side down in the steamer. Repeat until ingredients used up.
Stem for 10mins. Allow to cool completely;
 Deed fry, cut diagonally and ready to serve.

 .
.