素鲍鱼浇白菜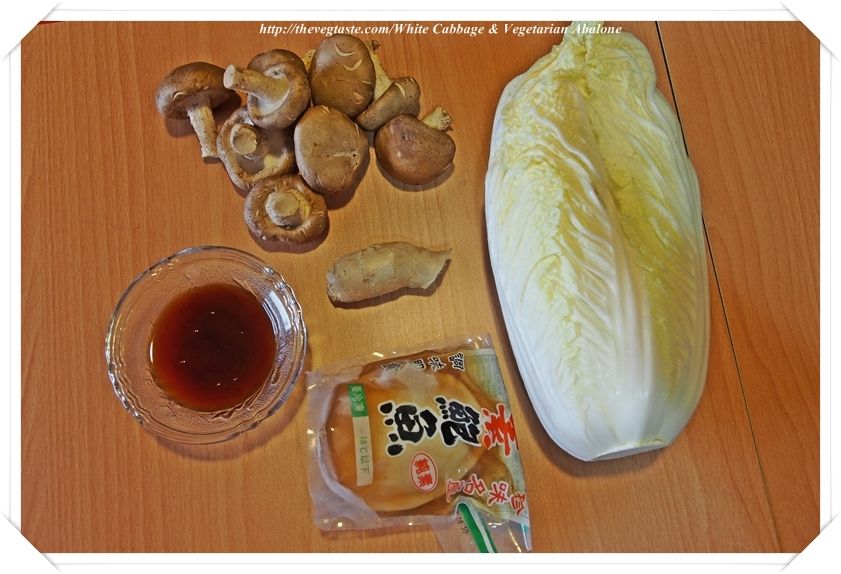 The recipe: White Cabbage and Vegetarian Abalone 素鲍鱼浇白菜
15 pcs white Chinese cabbage
10 pcs fresh shiitake mushrooms
A thumb size of ginger
1 package vegetarian abalone (170g)
3 tbsp premium black bean soy sauce paste
2 cups plain water
2 tbsp cooking oil
15片白菜叶
10粒鲜香菇
一个拇指大的生姜
1包装素鲍鱼 (170g)
3汤匙特级黑豆酱油膏
2杯白开水
2汤匙食油
Preparation:
Wash the Chinese cabbage under running water to discard any sand or dirt, shake dry and quarter into 3 sections.
Clean the mushroom and discard the stems.
Peel off the ginger skin and slice in ½ cm thick.
Slice the vegetarian abalone.
准备材料:
把白菜泡水洗净,切成3部分待用。
清理香菇,去除香菇脚。
洗去生姜外皮,切成厚片。
素鲍鱼切片。
Cooking Methods:
Heat wok with cooking oil. Add ginger slice, fry till fragrant.
Add mushroom, stir-fry for a minute.
Add Chinese cabbage. Pour in 2 cups of water.
Cover the lid and simmer till the leaf slightly soften.
Open the lid, add vegetarian abalone then follow by the premium black bean soy sauce paste. Stir well until all combine.
Cover the lid, simmer till the sauces thicken. Approximately 20-30mins. (Stir occasionally to avoid overcooking and the veggie sticking to the wok).
Ready to serve.
烹调方法:
烧锅 加油爆香姜片。
加入蘑菇,翻炒一分钟。
加入白菜再倒入2杯水。
盖上盖子,焖直白菜叶稍微软。
打开锅盖,加入素鲍鱼,然后再加入特级黑豆酱油膏。搅拌均匀。
盖上盖子,传小火焖煮直收汁即可。约20-30分钟。(偶尔打开锅盖搅拌均匀以避免过火)。

END PRODUCT:
White Cabbage and Vegetarian Abalone